At long last, we are releasing multiple new SHIMMER DVD titles during the next several weeks! Vol. 67 is now in stock and available for immediate worldwide shipping. Also, we are now accepting pre-orders for Vols. 68 & 69 of the SHIMMER series, which will be in stock and available to ship during September. We appreciate your patience as we get caught up on DVD releases prior to our 10th Anniversary shows in October.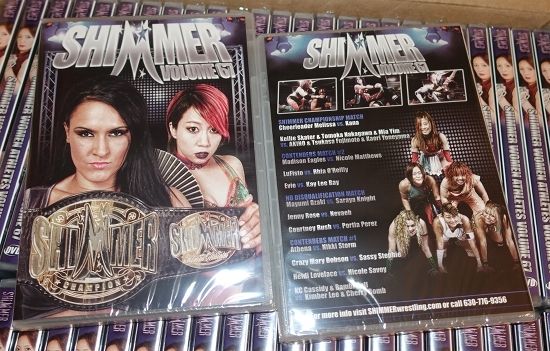 You can order online by using the PayPal buttons below each DVD description. If you would like to purchase DVDs from SHIMMER using a money order, please E-mail
shimmernews@yahoo.com
for mail order instructions. Please note that orders which include selections marked "PRE-ORDER" will not ship until all of the items in your order are in stock. To receive in stock items more quickly, place a separate order.


Vols. 68 & 69 Two DVD Combo Price: $30.00
(This is a PRE-ORDER selection, which will ship during Sept.)



Vols. 67-69 Three DVD Combo Price: $45.00
(This is a PRE-ORDER selection, which will ship during Sept.)




Vols. 66-69 Four DVD Combo Price: $60.00
(This is a PRE-ORDER selection, which will ship during Sept.)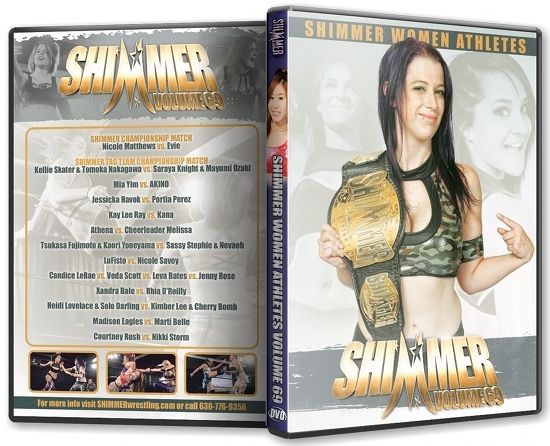 SHIMMER - WOMEN ATHLETES Vol. 69 (DVD PRE-ORDER)
Description:
1. Courtney Rush vs. Nikki Storm
2. Madison Eagles vs. Marti Belle
3. Heidi Lovelace & Solo Darling vs. Kimber Lee & Cherry Bomb
4. Xandra Bale vs. Rhia O'Reilly
5. Candice LeRae vs. Veda Scott vs. Leva Bates vs. Jenny Rose
6. LuFisto vs. Nicole Savoy
7. Tsukasa Fujimoto & Kaori Yoneyama vs. Sassy Stephie & Nevaeh
8. Athena vs. Cheerleader Melissa
9. Kay Lee Ray vs. Kana
10. Jessicka Havok vs. Portia Perez
11. Mia Yim vs. AKINO
12. SHIMMER Tag Team Championship Match: Kellie Skater & Tomoka Nakagawa vs. Saraya Knight & Mayumi Ozaki
13. SHIMMER Championship Match: Nicole Matthews vs. Evie
Price: $15.00
(This is a PRE-ORDER selection, which will ship during Sept.)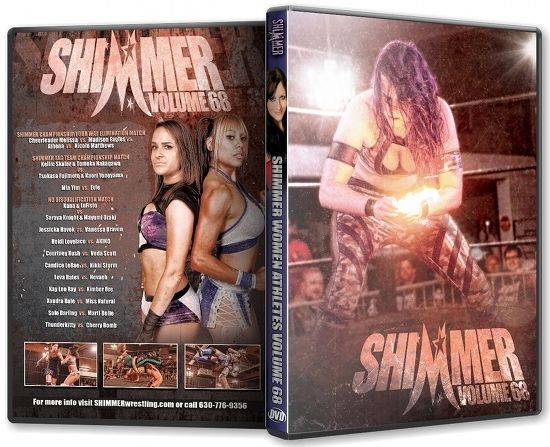 SHIMMER - WOMEN ATHLETES Vol. 68 (DVD PRE-ORDER)
Description:
1. Thunderkitty vs. Cherry Bomb
2. Solo Darling vs. Marti Belle
3. Xandra Bale vs. Miss Natural
4. Kay Lee Ray vs. Kimber Lee
5. Leva Bates vs. Nevaeh
6. Candice LeRae vs. Nikki Storm
7. Courtney Rush vs. Veda Scott
8. Heidi Lovelace vs. AKINO
9. Jessicka Havok vs. Vanessa Kraven
10. Kana & LuFisto vs. Saraya Knight & Mayumi Ozaki
11. Mia Yim vs. Evie
12. SHIMMER Tag Team Championship Match: Kellie Skater & Tomoka Nakagawa vs. Tsukasa Fujimoto & Kaori Yoneyama
13. SHIMMER Championship/Four Way Elimination Match: Cheerleader Melissa vs. Madison Eagles vs. Athena vs. Nicole Matthews
Price: $15.00
(This is a PRE-ORDER selection, which will ship during Sept.)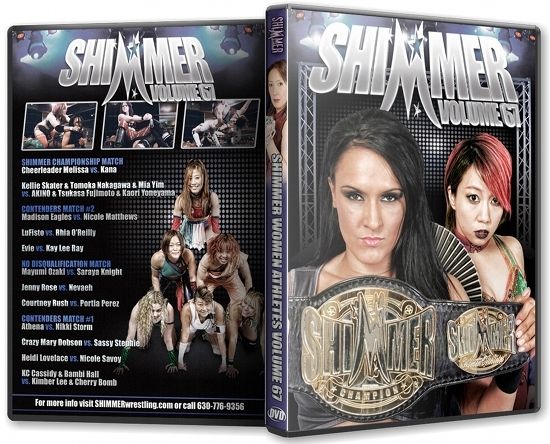 SHIMMER - WOMEN ATHLETES Vol. 67 (DVD)
Description:
1. KC Cassidy & Bambi Hall vs. Kimber Lee & Cherry Bomb
2. Heidi Lovelace vs. Nicole Savoy
3. Crazy Mary Dobson vs. Sassy Stephie
4. Athena vs. Nikki Storm
5. Courtney Rush vs. Portia Perez
6. Jenny Rose vs. Nevaeh
7. Mayumi Ozaki vs. Saraya Knight
8. Evie vs. Kay Lee Ray
9. LuFisto vs. Rhia O'Reilly
10. Madison Eagles vs. Nicole Matthews
11. Kellie Skater & Tomoka Nakagawa & Mia Yim vs. AKINO & Tsukasa Fujimoto & Kaori Yoneyama
12. SHIMMER Championship Match: Cheerleader Melissa vs. Kana
Price: $15.00


Vols. 66 & 67 Two DVD Combo Price: $30.00

Vols. 65 & 66 Two DVD Combo Price: $30.00

Vols. 64-66 Three DVD Combo Price: $45.00


Vols. 63-66 Four DVD Combo Price: $60.00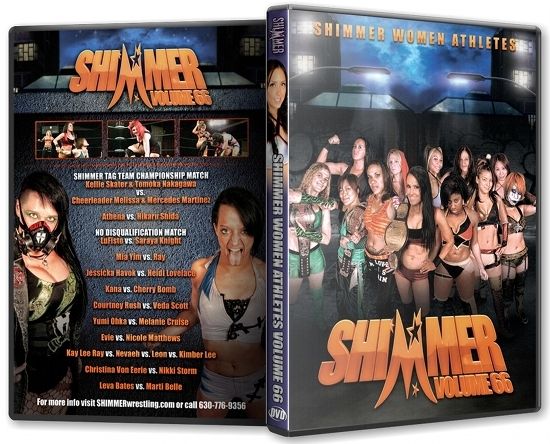 SHIMMER - WOMEN ATHLETES Vol. 66
Description:
1. Leva Bates vs. Marti Belle
2. Christina Von Eerie vs. Nikki Storm
3. Kay Lee Ray vs. Nevaeh vs. Leon vs. Kimber Lee
4. Evie vs. Nicole Matthews
5. Yumi Ohka vs. Melanie Cruise
6. Courtney Rush vs. Veda Scott
7. Kana vs. Cherry Bomb
8. Jessicka Havok vs. Heidi Lovelace
9. Mia Yim vs. Ray
10. No Disqualification: LuFisto vs. Saraya Knight
11. Athena vs. Hikaru Shida
12. SHIMMER Tag Team Championship Match: Kellie Skater & Tomoka Nakagawa vs. Cheerleader Melissa & Mercedes Martinez
Price: $15.00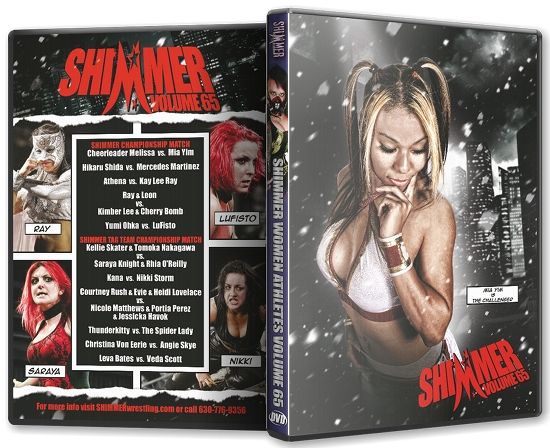 SHIMMER - WOMEN ATHLETES Vol. 65 (DVD)
Description:
1. Leva Bates vs. Veda Scott
2. Christina Von Eerie vs. Angie Skye
3. Thunderkitty vs. The Spider Lady
4. Courtney Rush & Evie & Heidi Lovelace vs. Nicole Matthews & Portia Perez & Jessicka Havok
5. Kana vs. Nikki Storm
6. SHIMMER Tag Team Championship Match: Kellie Skater & Tomoka Nakagawa vs. Saraya Knight & Rhia O'Reilly
7. Yumi Ohka vs. LuFisto
8. Ray & Leon vs. Kimber Lee & Cherry Bomb
9. Athena vs. Kay Lee Ray
10. Hikaru Shida vs. Mercedes Martinez
11. SHIMMER Championship Match: Cheerleader Melissa vs. Mia Yim
Price: $15.00
SHIMMER - WOMEN ATHLETES Vol. 64 (DVD)
Description:
1. Kay Lee Ray vs. Nikki Storm vs. Melanie Cruise
2. Athena vs. Cherry Bomb
3. Heidi Lovelace vs. Angie Skye
4. Leva Bates & Veda Scott vs. Saraya Knight & Rhia O'Reilly
5. Christina Von Eerie vs. Marti Belle
6. LuFisto vs. Nevaeh
7. Madison Eagles vs. Courtney Rush vs. Evie vs. Nicole Matthews
8. Kana vs. Thunderkitty
9. Hikaru Shida vs. Kimber Lee
10. Mia Yim vs. Mercedes Martinez
11. SHIMMER Tag Team Championship Match: Kellie Skater & Tomoka Nakagawa vs. Ray & Leon
12. SHIMMER Championship Match: Cheerleader Melissa vs. Yumi Ohka
Price: $15.00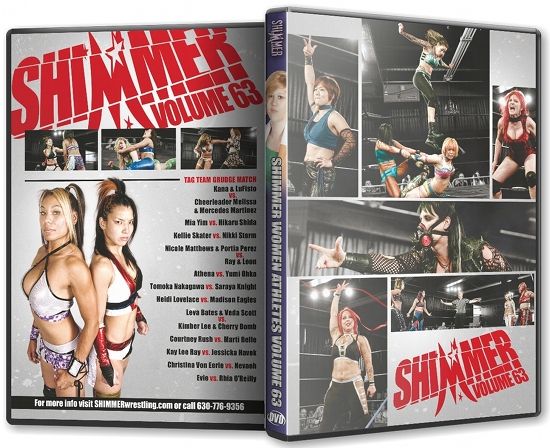 SHIMMER - WOMEN ATHLETES Vol. 63 (DVD)
Description:
1. Evie vs. Rhia O'Reilly
2. Christina Von Eerie vs. Nevaeh
3. Kay Lee Ray vs. Jessicka Havok
4. Courtney Rush vs. Marti Belle
5. Leva Bates & Veda Scott vs. Kimber Lee & Cherry Bomb
6. Heidi Lovelace vs. Madison Eagles
7. Tomoka Nakagawa vs. Saraya Knight
8. Athena vs. Yumi Ohka
9. Ray & Leon vs. Nicole Matthews & Portia Perez
10. Kellie Skater vs. Nikki Storm
11. Mia Yim vs. Hikaru Shida
12. Kana & LuFisto vs. Cheerleader Melissa & Mercedes Martinez
Price: $15.00